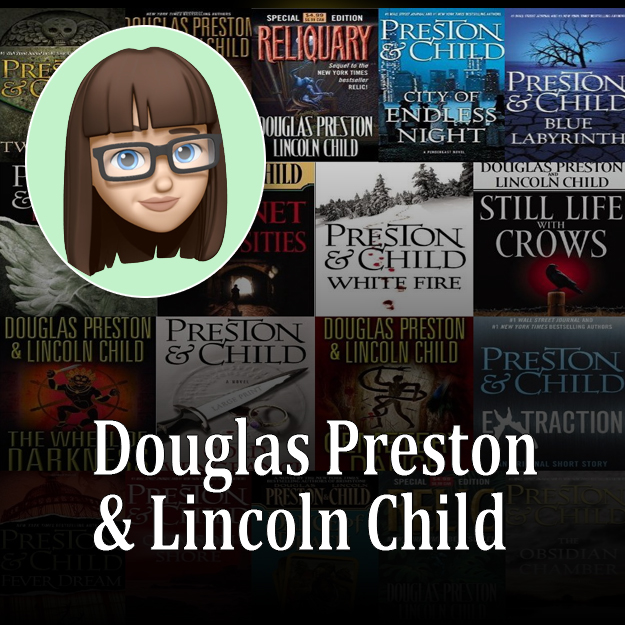 Jump on the crazy train with The ArtsyDweeb as she talks about her 15-year obsession with the Pendergast Novels, by Douglas Preston and Lincoln Child. The ulterior motive, of course, is to turn others to the dark side with a little Penderpimping!
This is the list of the Pendergast Series, by Douglas Preston and Lincoln Child.   They are in order by publication date. While you CAN read these books as you please.  There are some that are a unit within the series, and I'd suggest that they are read together.  
*Relic
*Reliquary
*The Cabinet of Curiosities 
*Still Life With Crows
*Brimstone(Diogenes Series 1)
*Dance of Death(Diogenes Series 2)
The Book of the Dead(Diogenes Series 3)
*The Wheel of Darkness
*Cemetery Dance
*Fever Dream(Helen Series 1
*Cold Vengeance(Helen Series 2)
*Two Graves(Helen Series 3)
*White Fire
*Blue Labyrinth
*Crimson Shore
*The Obsidian Chamber
*City of Endless Night
*Verses for the Dead
*Crooked River(upcoming this February 4th)
Now if you listened to my podcast, you'll remember that I mentioned some favorites in this series.  While I believe that ALL the Pendergast books are great, and have their own appeal. There are a few that have a special place in my heart! 
The Cabinet of Curiosities is my favorite novel in this series, and for a few reasons.  One is that it was the first book in the series I read! Creepy experiments by a mad scientist, the serum for immortality, bodies excavated out of the ruins of an old building, with their spines severed??  What's not to love? Oh, and it also includes a very strong heroine at the side of our favorite FBI agent!
White Fire is next on my favorites list.  I gotta tell you, I love me some cannibalism!  And this book is chock full of it. Throw in a little Arthur Conan Doyle, mercury poisoning and a Colorado town full of rich families with secrets and Voila!  A beautiful recipe for disaster!
Crimson Shore belongs on my list of top threes for this series, and here's why.   A creepy town in New England with ties to the Witch Trials, good. A shipwreck filled with victims, and a body found in a lighthouse cellar?? Great!  A Lovecraftian creature running around evading our favorite Agent? Amazing. Storytelling at its very best.